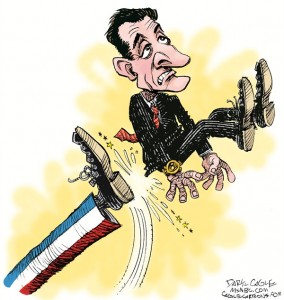 Something important I neglected to post earlier this week. After a flirtation with conservatism, France and other countries, like Greece, have had it with austerity measures and the other debilitating features of pro-wealth, anti-public rule.  Conservative Party British PM David Cameron will be next to fall, not only due to his austere economic policies, but also his manifold scandals, most of them traced to his close relationship with Rupert Murdoch's crumbling and corrupt media empire. Despite the pop-eyed hallucinations of the American right-wing, President Obama is not a socialist in the mold of France's new president Francois Hollande, but if he's reelected and the Dems do well in Congress, perhaps we can at least get some more progressive measures passed and wave goodbye to the lunatic and obstructionist Teabaggers for good.
Socialist Hollande in, Sarkozy out, as France elects a new president

By the CNN Wire Staff
updated 9:56 PM EDT, Sun May 6, 2012

Paris (CNN) — Francois Hollande defeated French President Nicolas Sarkozy in a presidential runoff Sunday, signaling a shift to the left as the country and Europe fight to dig out of a weak economy.

In a victory speech to supporters in Tulle, Hollande declared his win "a great date for our country, and a new start for Europe." The Socialist challenger promised to govern for all of France.

"Many people have been waiting for this moment for many long years. Others, younger, have never known such a time. … I am proud to be capable to bring about hope again," he told the cheering crowd.

"Tonight, there are not two Frances. … There is only one France, only one nation that is united with the same destiny," Hollande said.

The president-elect, who will be the nation's first left-wing president since Francois Mitterrand left office in 1995, suggested there was a sense of relief in many European countries because of his win.

"Austerity can no longer be something that is inevitable," he said.

Later, Hollande went to Paris, where he addressed a large crowd at the Bastille. Supporters waved flags and shouted his name.

"I know what many people feel — years and years of wounds, of ruptures, and we have to repair, recover, unite. That is what we're going to do together," he vowed.

Hollande congratulated Sarkozy, who earlier conceded to Hollande as results from exit polls and official tallies in the runoff election came in.

Read the rest here.